We Are Manufacturer And Supplier Of Customized Fabricated Equipments, Pressure Vessel Fabrication, Shell & Tube Exchangers, Storage Tanks, Furnaces
We are pleased to introduce ourselves, TUSAR FABENGINEERS PVT. LTD., India, as the company manufacturing SPECIALISED CUSTOM-BUILT METAL FABRICATED EQUIPMENTS like Pressure Vessels, Vacuum Furnace Chambers, Large Engine Fuel-boxes and Heavy Fabricated Equipment - in Carbon Steel, Alloy Steel & Stainless Steel.

We started operations in 1992 and are now geared up to meet the challenges of Process Industry in India and Global Market. Our 2 plants (Total covered area 100,000 Sq Ft.) are located in Pune, @ 95 miles from Mumbai. Pune has many vital Automotive & Engine Manufacturing Companies and is a Software Hub. Many Fortune 500 companies are setting up operations in Pune for R & D, Production.

Started by an engineer, with a combined 33 years of experience in Manufacturing and Entrepreneurship, Tusar Group employs 50 – Skilled workmen, 10 Engineers & Managers to cater to the needs of Global Customers. Welding is our major focus area - WPS, PQR & WPQ as per ASME Section IX.

Sales turnover is Rs. 165 Millions ( >90% Export ) in financial year 2015-16, and plans are to achive Rs. 220 Millions in 2016-17 and eventually Rs. 500 millions from all units. We have an ambitious plan to be recognized as a significant player in the Process Equipment field worldwide.

We manufacture & supply Customized Fabricated Equipments, Machining & Assembly Work as per Drawing. Range of our fabrication works includes Pressure Vessel Fabrication, Shell & Tube Heat Exchangers, Storage Tanks, Process Equipment, Furnaces, Fabricated Equipments, that find their usage in various industries like Food, Process, Earth Moving, Mining, Power Plants etc. to customers from Europe, USA & India.

We manufacture in Carbon Steel such as SA 515 / 60, 516 / 70, IS2002, IS2062, Alloy Steel such as SA387 & Stainless Steel such as AISI 304 / L, 410, 316, 321, 321H, 310 as per customer requirement.

---
Our Mission
To be our customers preferred fabrication service provider
To Develop Culture, based on
• Competence – Professionalism, Credibility & Integrity
• Co-operation - Team Spirit & Openness
• Responsibility - Ownership & Willingness to Change
To Exceed Customer Satisfaction
---
Our specialty over the years is – Precision fabrication with machining upto 56MT single piece with a mission to deliver
Vacuum Furnace parts / sub-assemblies-mold chamber, melt chamber
Pressure vessels ( As per ASME Sect. VIII ) / Autoclaves
Shell & tube type Heat Exchangers
Any other specialized fabricated equipment as per customer's design
Single Piece weighing 56 T & Assembly weighing 100 T
Single Order Value executed so far – INR 450 Lacs / US $ 1 Million
2015 - 16 Turnover in USD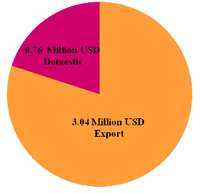 We have in house Manufacturing & Testing facilities & have a good vendor base.
---
Present Certifications
• ISO 9001:2015
• ISO 14001:2015
Future Plans
Increased Exports to Europe, USA, Australia-NZ
ASME U, R stamps, if required by customer
PED / CE Marking, if required by customer
Value Proposition
Having established ourselves in this field and with steady exports to USA & Europe, we would now like to have strategic tie - ups with European / US companies for contract manufacturing and offer advantages like – Cost competitiveness, Improving bottom - line of Europe / US partner in business, Technology (process design, detailed engineering), experience in exports.
---
Material of Construction
Carbon steel – IS2062, SA36, SA516 Gr.70, St37, St52, A105, A106, etc.
Stainless Steel – SS304, SS316, SS310, SS410, Etc.
Low Alloy steel – SA387 Gr.11
Material thicknesses used = 3 mm to 100mm
Process Inspection
We follow ASME Sect. IX for Welding.
WPS, PQR & WPQ as per section IX available for verification.
Qualification as per BS EN 288-3:1992 or DIN 28005 is possible.
All measuring & monitoring devices are calibrated
---
Inspection & Testing Capabilities
Radiographic examination – In house under the name Pune NDT Services
Liquid Penetrant Examination
Pressure Test
Ultrasound Examination
Magnetic Particle Examination
Metallurgical Testing
Ultimate Tensile Testing
Bend Test
Impact Test
Macroscopic & Microscopic Examination
All above testing facilities are hired
---
Inspection Agencies
Lloyd's Register of Industrial Services
Det Norske Veritas
Bureau Veritas
American Bureau of Shipping
UHDE India Limited
Kvaerner Power gas
Tata Consultancy
Registration
SSI NO. 27 025 11 06729 Part II
VAT TIN NO. 27090011005V
CST TIN NO. 27090011005C
ECC NO. AAQPP9511MXM001
TAN REG NO. PNET03619A
SERVICE TAX NO. AAQPP9511MST001
IMPORT / EXPORT CODE. 3100003870
---